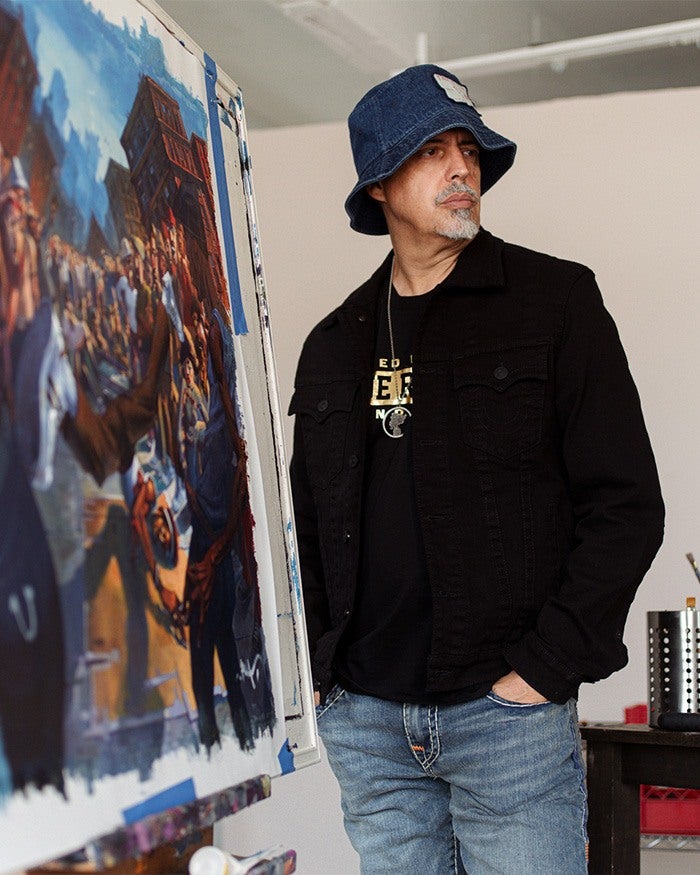 Apr 22, 2022
Generation True:
Justin Bua
Written by
True Staff
Photographed by
Josh Huskin
Video by
Squinted Cinema
Our denim has its own coming of age story—and so do you. For our latest denim campaign, Generation True, we wanted to explore the importance of True Religion denim in the lives of creatives as well as prove the simple fact that our stitch is the thread that connects us all together.
When did you first form a connection with the world of art?
Growing up on the Upper West Side, what I called the "Upper BEST Side", art was omnipresent. In all its raw forms art surrounded me everywhere— painted subway cars, park walls, hand ball courts and the underground tunnels. Art was truly everywhere. The ubiquity of Graffiti permeated my consciousness. I followed that creative thread from one block to another. Eventually, I took it to the world stage of museums, galleries, and international patrons.
Growing up in New York, hip hop and street life are apparent themes in your work. In what other ways has this culture influenced you, and why do you feel it has a lasting influence on fashion?
Street culture has a way of stripping everything down to its most honest and raw denominators— authenticity and realness. That's why it's lasted. The streets belong to the people and these are the tapestries people paint with, the concrete we dance on—it's how we express ourselves in a raw and primal form. That translates to what we wear and how we express ourselves.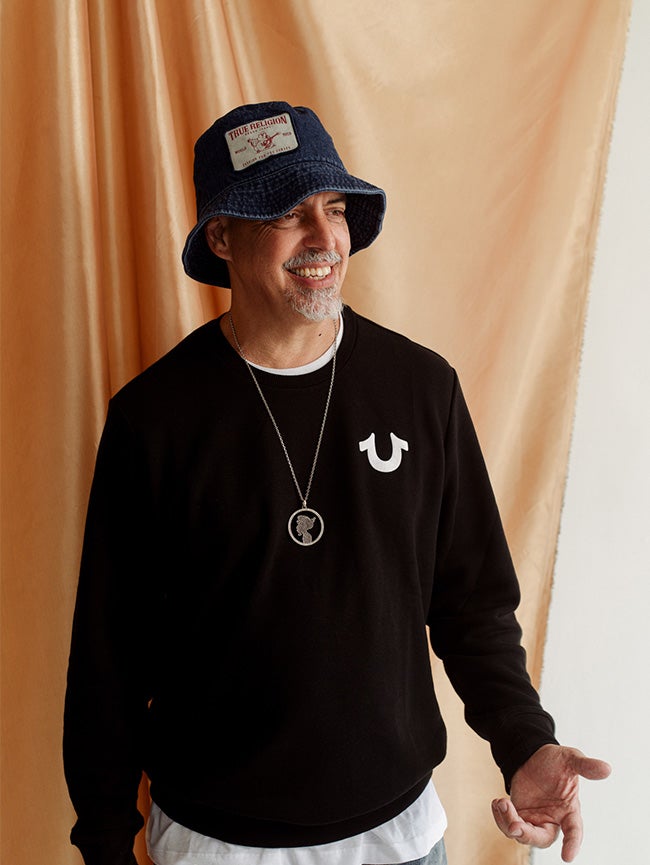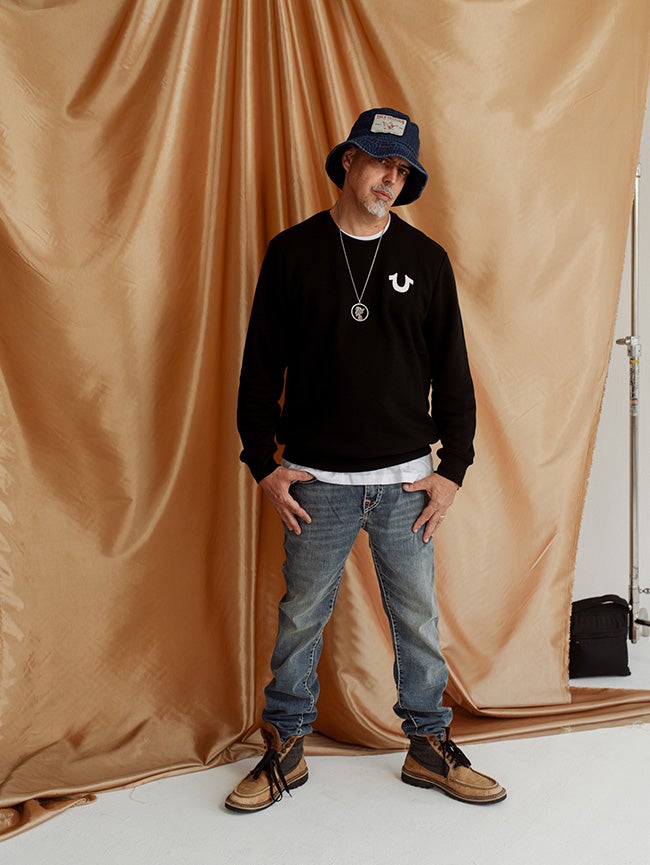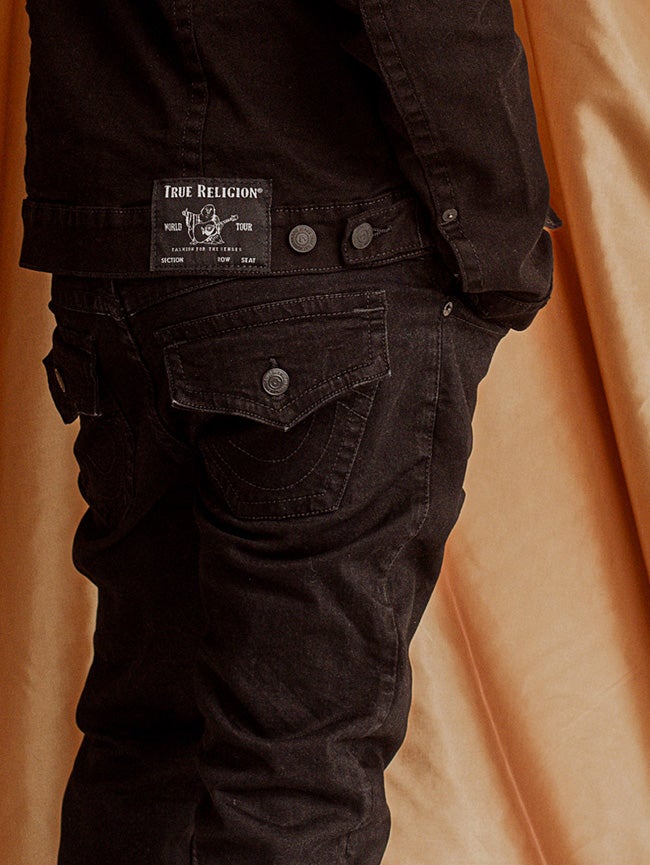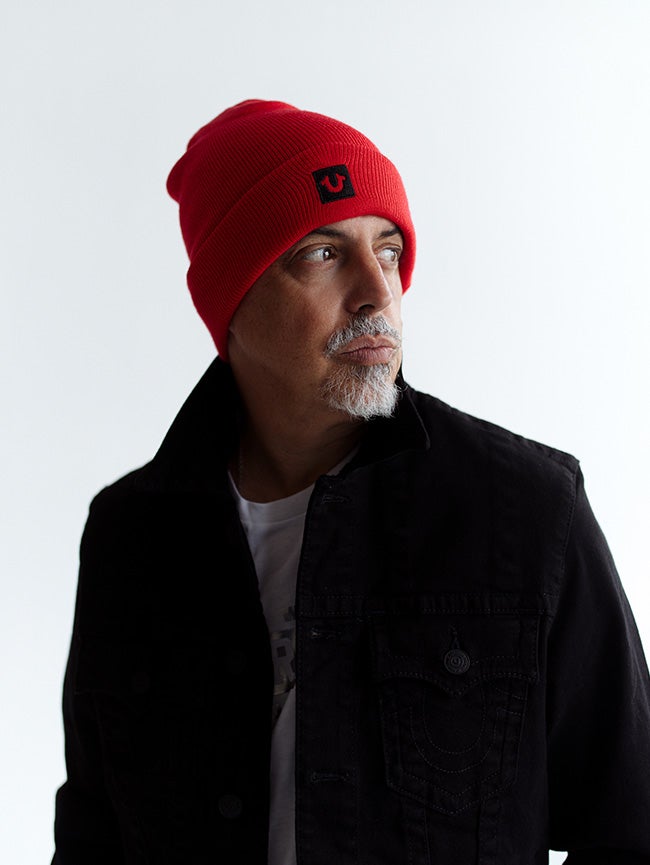 "Street culture has a way of stripping everything down to its most honest and raw denominators— authenticity and realness."
Why do you feel your signature piece, The DJ, has become one of your most popular prints?
The DJ has experienced long lasting success because his spirit is a part of all of us. He spins for the love and purity of it, not for the fame or fortune. The DJ, illuminated by a single light source, surrounded by a seemingly endless collection of vinyls, thrives in his own space. As artists we surround ourselves with the things we love. We are hungry for inspiration.
The DJ represents the journey, not those celebratory moments that we think are important. Those moments are fleeting. Those success' might feel like one has made it but those are simply milestones... When you look back on it you realize that true success is simply the journey. All that time and energy that you spend practicing, rehearsing, performing—that's the fucking journey! That's The DJ.
Congrats on releasing your statue collection, The Four Elements of Hip Hop. What did the creative process look like, and why was it important to you to offer collectibles?
Thank you very much. I wanted to bring these classic paintings to life, realizing them in three dimensions was the next step in rediscovering these pieces and inviting new and old fans of hip-hop to celebrate the culture. I have sold more than 13 million prints of the DJ. It has been my honor to reimagine The DJ and my other characters as three dimensional statues.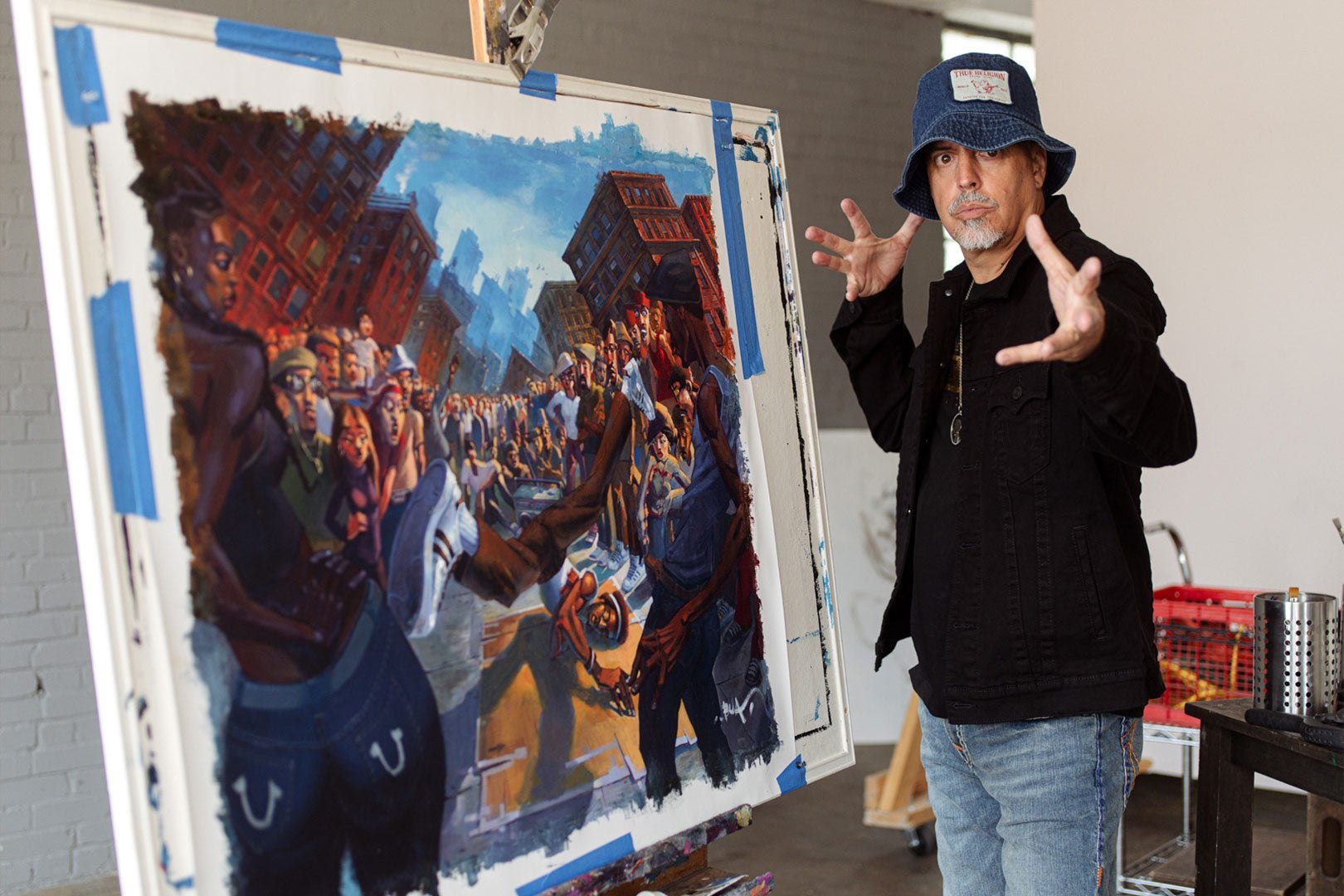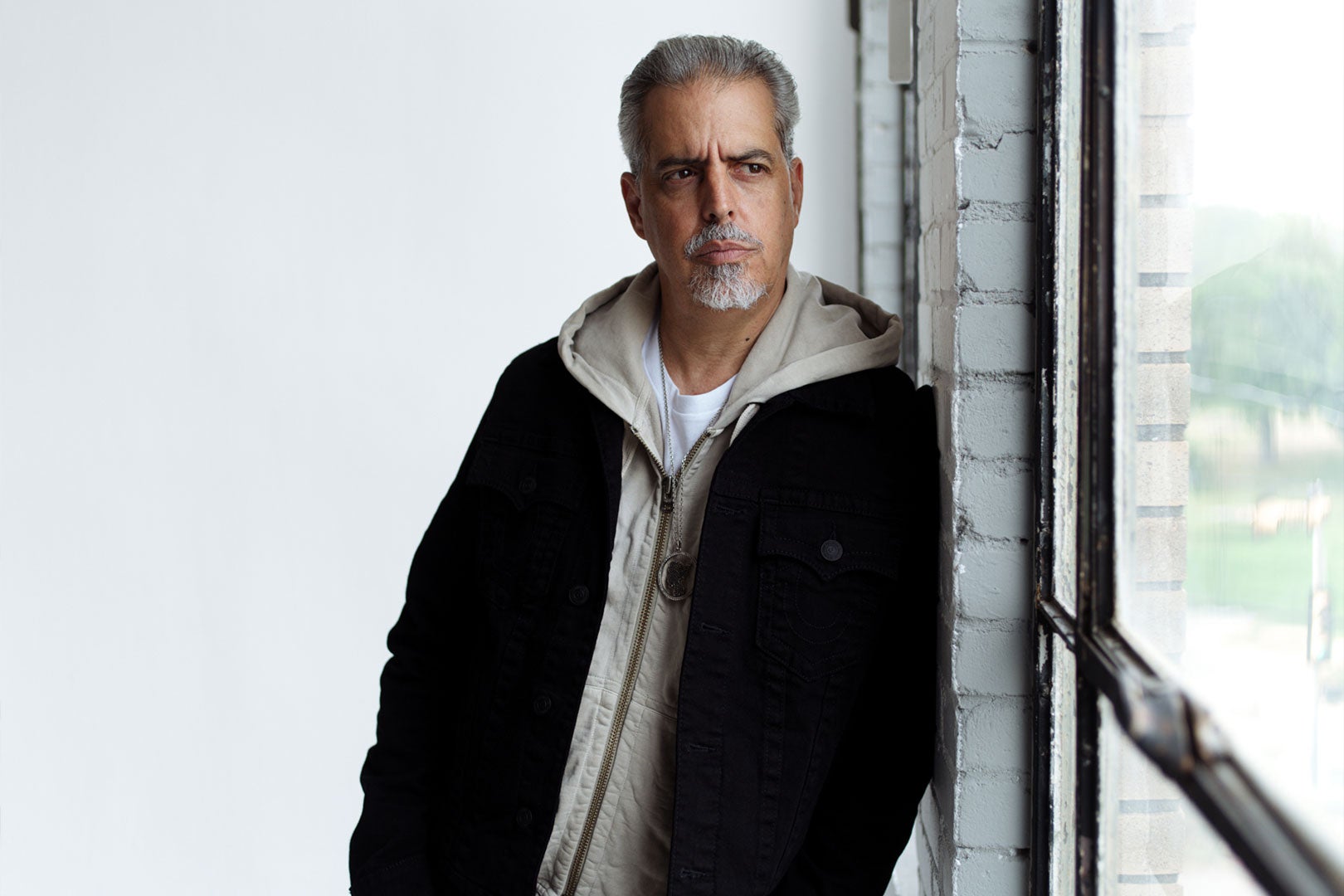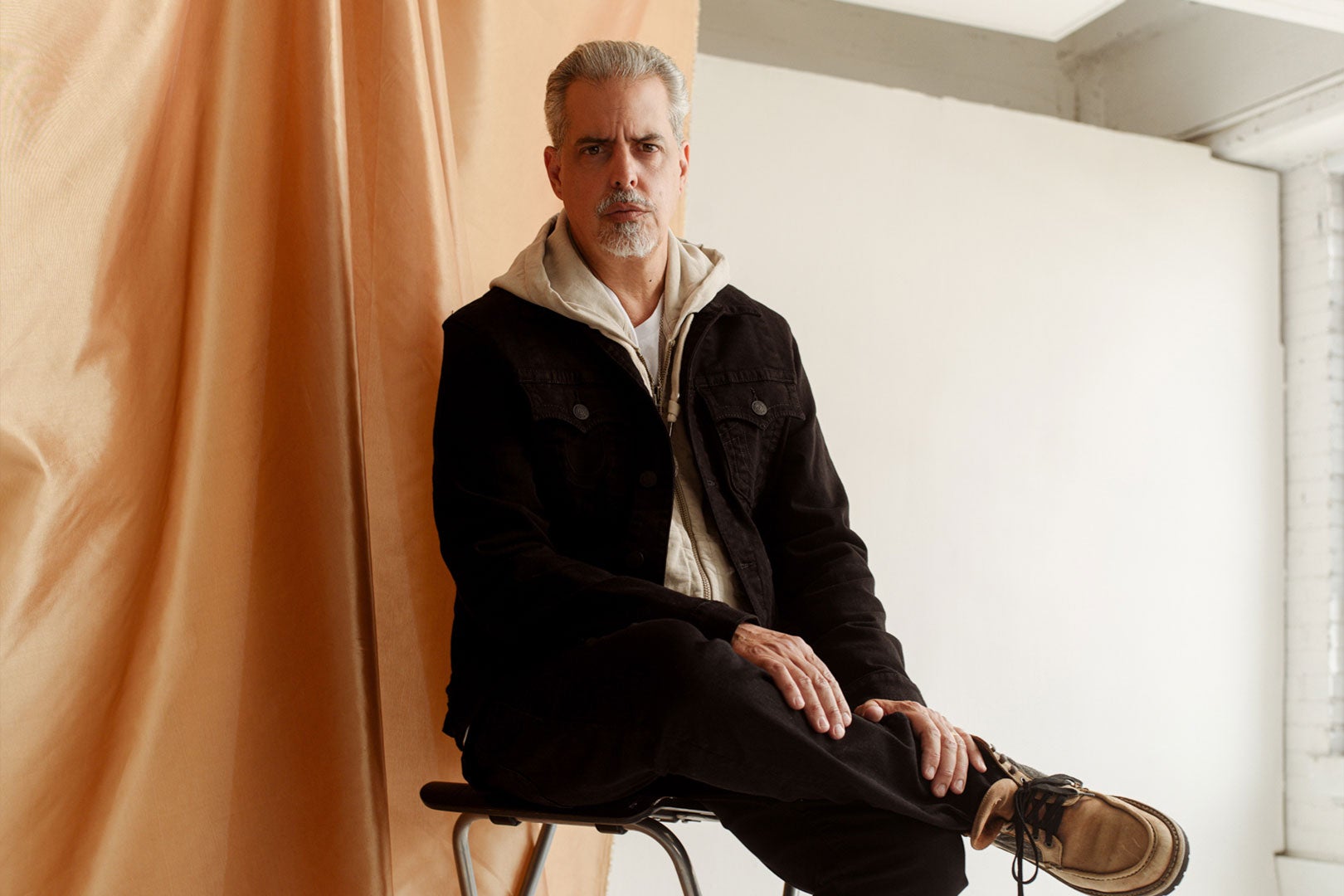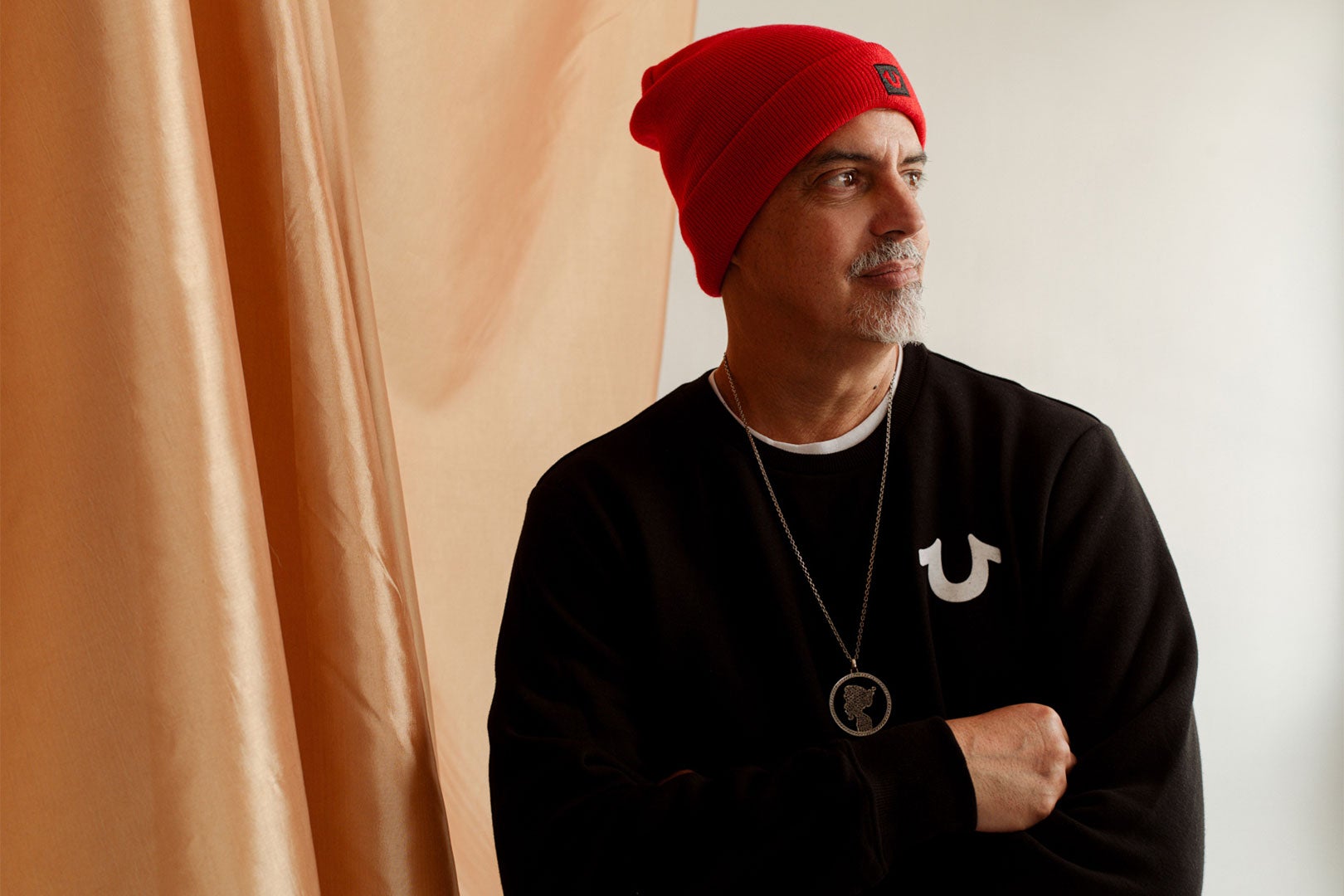 In addition to painting, we see you bustin' moves on IG. Has dance always been a creative outlet for you?
Absolutely! I was a professional B-Boy back in the day. The moves have a lot do with the way my work flows, the way it influences the gesture of my figures. They're always in-motion.
Describe your style. Why do you consider denim a wardrobe staple?
Denim is rough and rugged and the more you wear it out the more comfortable it gets... There's nothing like a great pair of jeans that fits you well, plus denim was always a staple of the working class people, and I'm working with class 24/7.
What's your life motto?
Follow your dreams, work hard and never settle for anything short of excellence; mediocrity is the death of your soul.