TRUE RELIGION PRESENTS
rec·la·ma·tion
noun
A series focused on a new generation of artists who are looking at the past with a new perspective.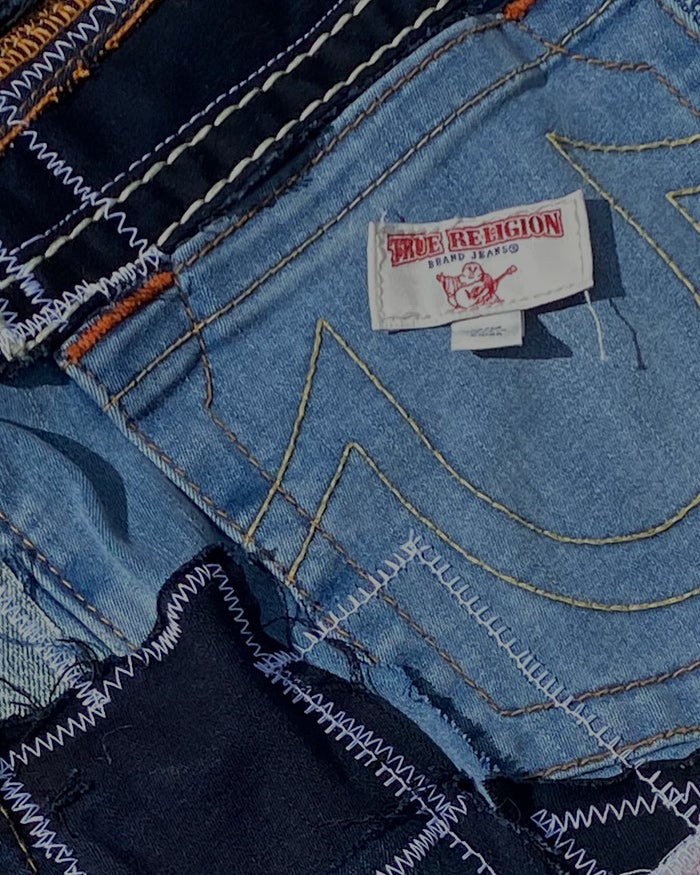 Mar 31, 2021
Reclamation: Meaghan
Written by
True Staff
Photographed by
Addie Schmidt
There's nothing wrong with clothes that have lived a past life — the best thing about fashion is that everything can be new again.
We're partnering with artists to share their stories by reimagining heritage styles. Creating a rich tapestry of reworked denim, Meaghan's artistic gift can be seen through her ability to completely transform and reinvent what we wear.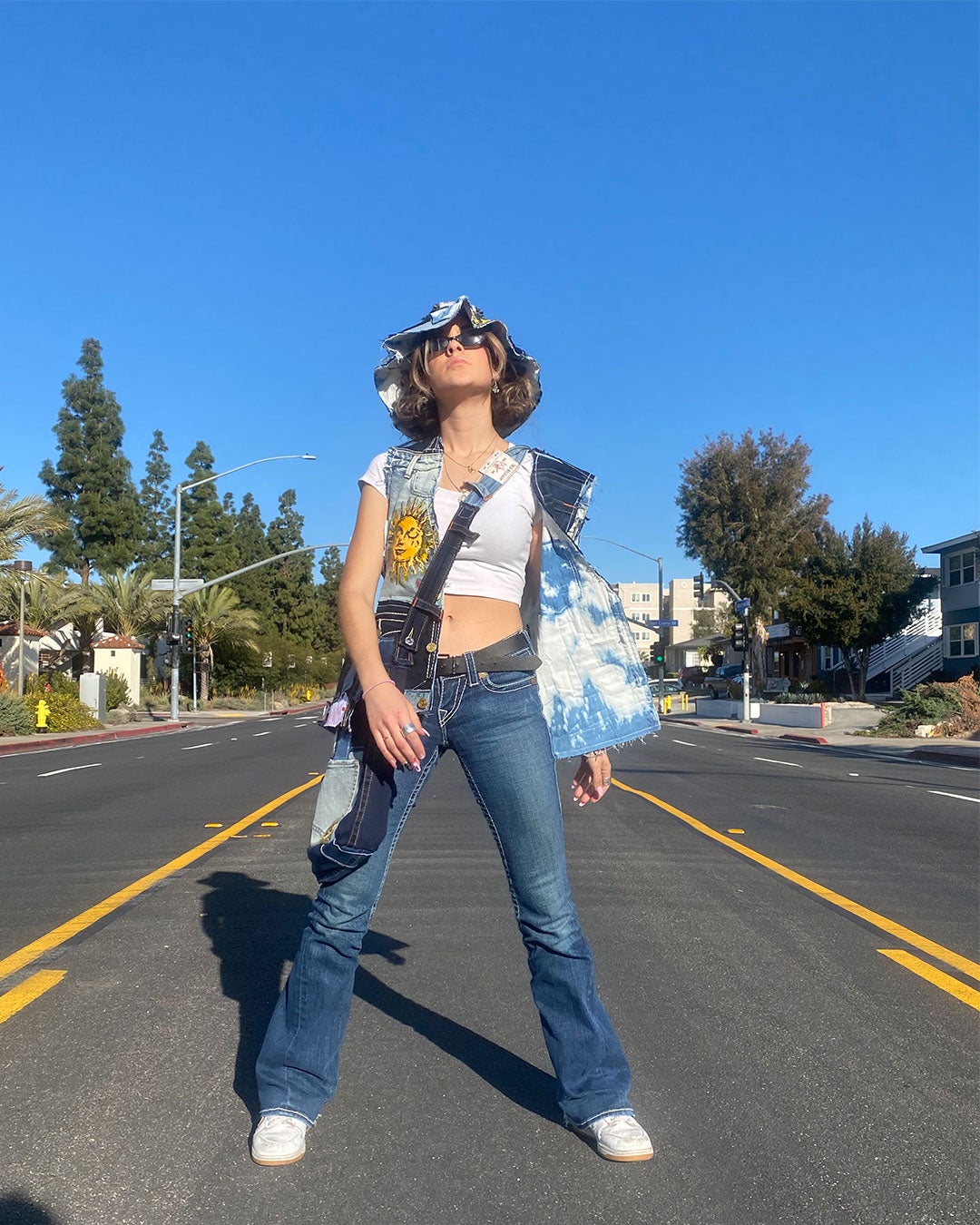 Where do you look to find inspiration?
I look to music,I like to relax a little bit and then I will go find a playlist. I have well over 50 playlists. Some have 500 songs, some have 400, others have seven some have three, it doesn't matter, I'll click on whatever I am feeling. I will search songs that inspire me. I also listen to interviews and the stories of singers, fashion designers and people who are successful. While I'm sewing, I spend hours watching catwalk videos and fashion documentaries on literally everyone and anyone.
What drew you to your artistic medium?
I feel like art has always been inside me. I love and breathe art. I think fashion is an art form. I started sewing when I was little, and have always had paintbrushes in my hand and ever since I could remember. My grandmother taught me how to crochet and knit. I made felt plushies and denim bags and backpacks in fifth grade to wear to school. I went on to make more clothes and custom hand painted shoe designs in high school and it just went from there. I have worked with small businesses brands like Wotown Vintage in San Diego, where I made denim bucket hats and patchwork pants. True Religion happened to see a pair of denim pants I made for myself and really loved it and I couldn't be more thankful.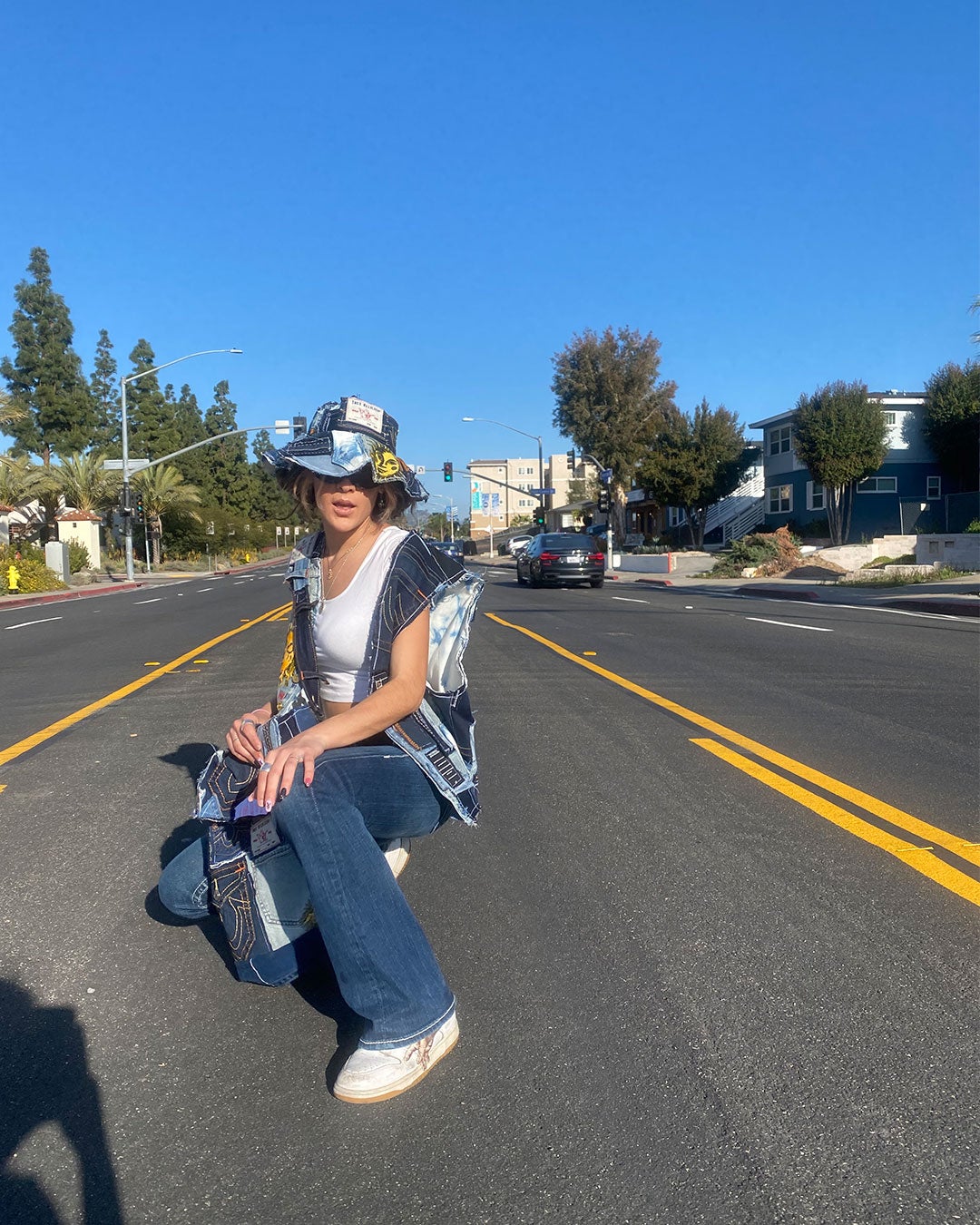 What does your art say about who you are?
My art is me on a canvas or whatever medium I am working on. I put my literal blood sweat and tears into everything I do. Whenever I work on something I can spend over seven or eight hours in one sitting of just sewing. I think about what's motivating me or I listen to music that is inspirational to me at that point in my life and put it into my work. I put all my emotions, passions and dreams into a piece. That's my art.
What are your go-to materials you use when creating?
When creating I literally use everything. I can't put it in one term but my favorite is denim for sure. I love all textiles, any fabric. But if I'm not creating clothing or pieces with textiles, I love painting and using paint on fabric and textiles. Painting is also one of my natural passions that just comes to me.
What does art mean to you? What does fashion mean to you?
Art and fashion are one for me because art is fashion and fashion is art. You can interchange the two, but for me, it's a way of life. It's a way of expressing who you are as an individual person. If you feel you can't express it with your voice you can put how you feel into what you wear visually. I was watching an interview and there was a quote, something along the lines of fashion is like a mask or a form of expression, which is how I really feel. Fashion is you, you are presenting you.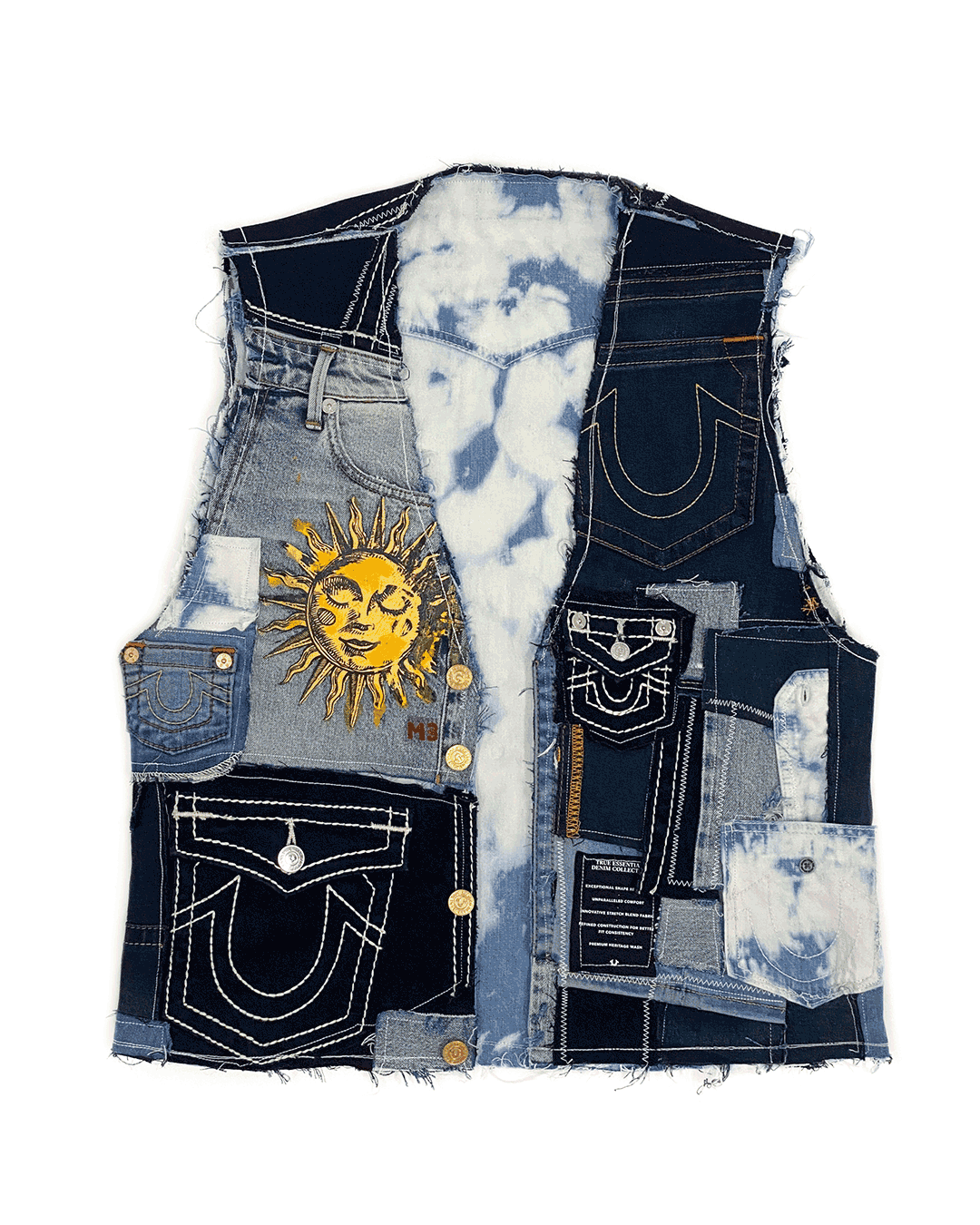 What do you want people to feel when seeing or wearing your art?
What I want people to feel when they are seeing or wearing my art is feel fucking awesome. I want them to feel so empowered and amazing in the skin that they are in. I want them to feel they can take on the world, they can do whatever dream or goal they are trying to accomplish. I know it sounds simple, how could a piece of clothing change how you feel, but for me, I just want them to feel like they are their most confident self, and feel amazing with who they are because every person needs to feel they are special in that way. If a piece of clothing or an accessory can make you feel that way, go get it because you need to feel that way every single day. Every single damn day.
How do you get in your creative zone? Music, film, media etc?
I get in my creative zone with music definitely and if I'm not listening to music, the fashion documentaries, catwalks, shows and looking at the behind the scenes before the runway when the models are getting ready with the stylists, the makeup artists, you get to see the whole production. The behind the scenes works of what is going on, not just the walk, but all the work that is put into it and all the emotions behind this one show. It's is cool to see all that leads up, months on months before how it came to be for this one night. So I like to do both, I listen to music and watch all these things on YouTube at the same time.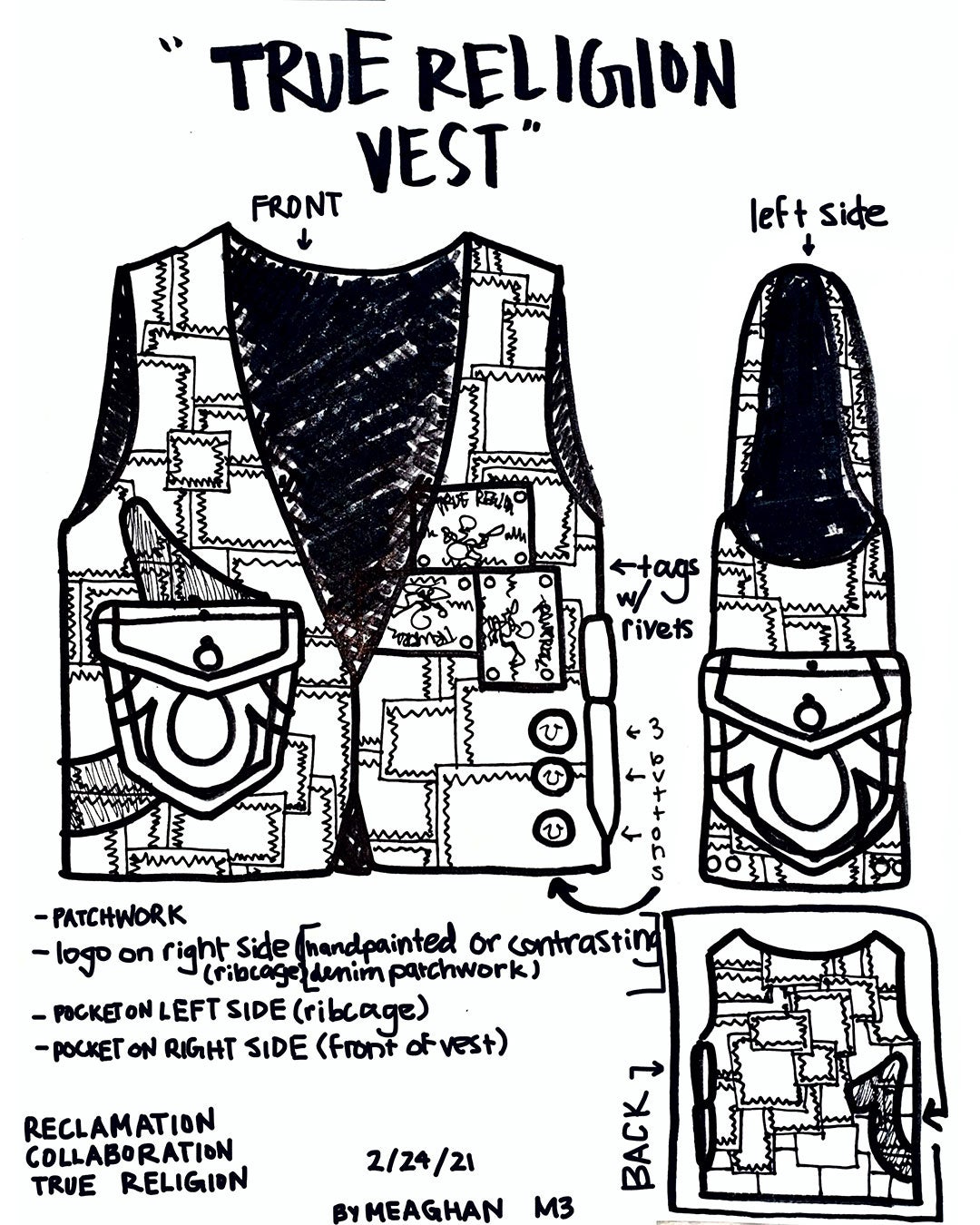 I put all my emotions, passions and dreams into a piece. That's my art.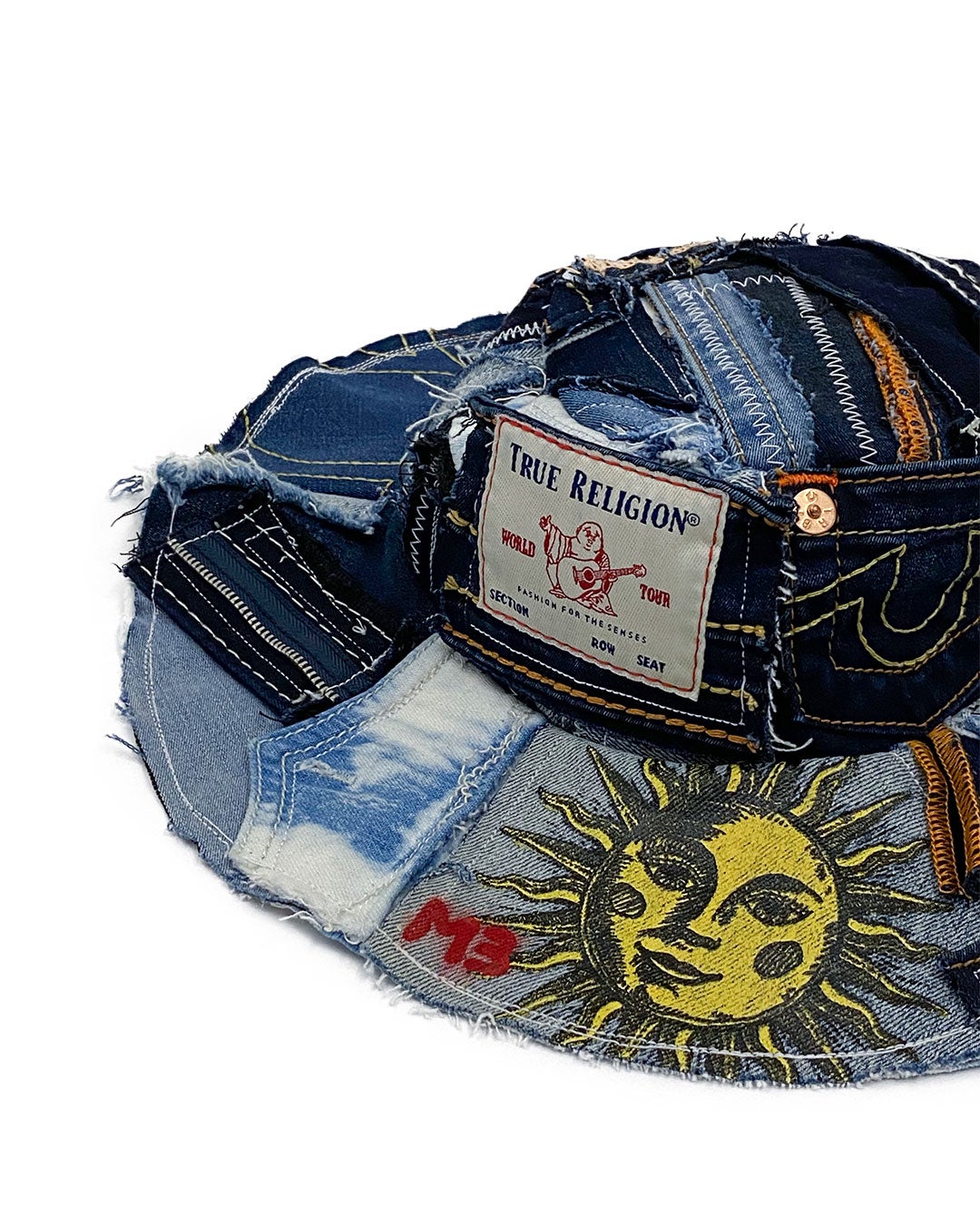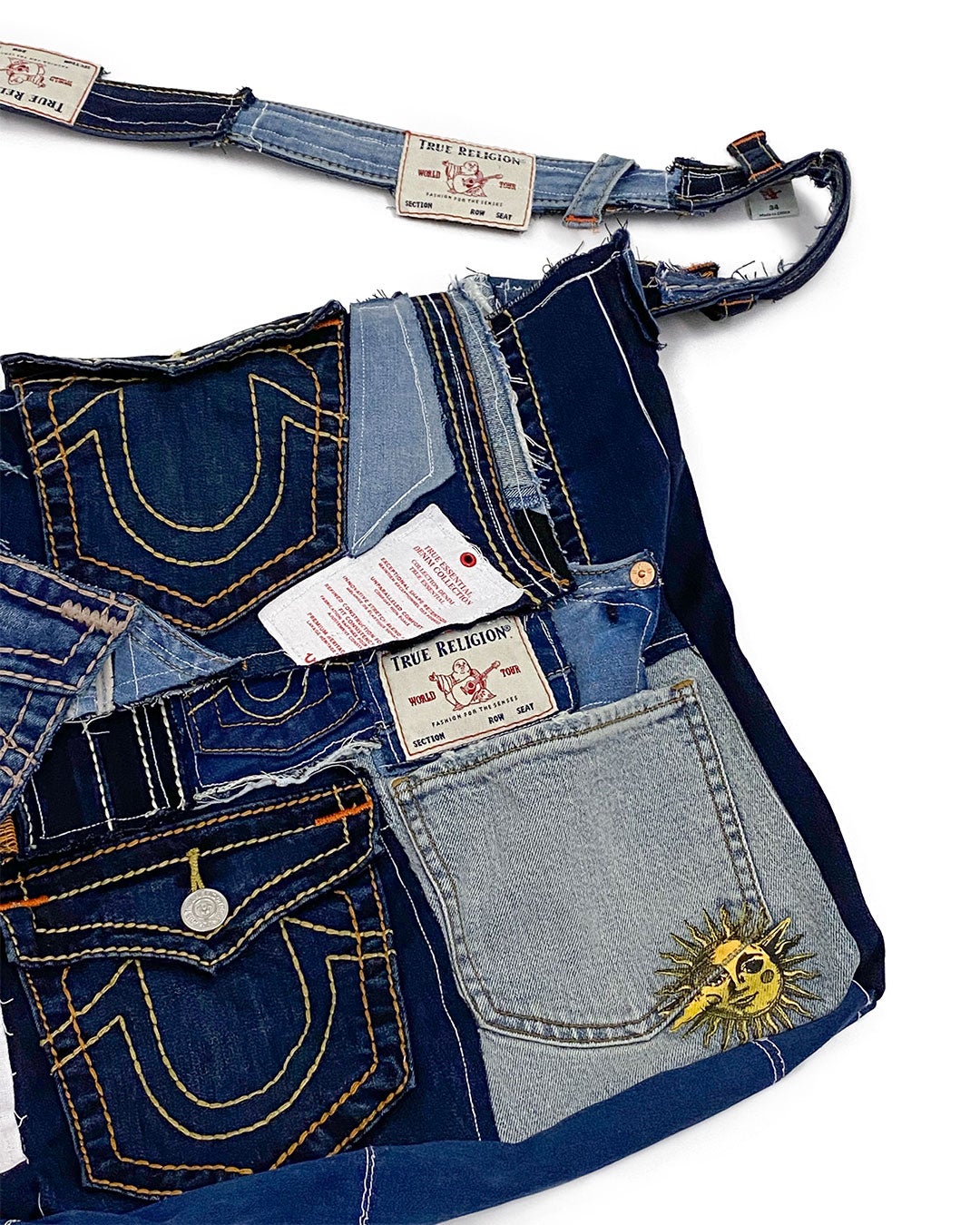 How long have you been creating? How did you choose this path?
Since I was born. I feel like it is in me, simple as that.
What's your favorite piece you've ever made? Why?
My favorite piece is currently the True Religion pieces I have made. I know that sounds cliche to say but every single piece I have made is getting better and better. I feel I can't compare every piece I have made because I was at a different point in my life when creating. Obviously they were not that great in the beginning, but it is cool to see the progression and appreciate each piece equally because that reveals a moment where if I did not make that choice I would not be where I am today. So definitely the most recent piece every single time because you get to see your progression and how much you have accomplished. You get to learn more every time, even if you mess up.
How does being a woman in the arts influence your work? Are there any female artists that inspire you?
For sure. Being a female artist gave me an escape and a voice when I felt I did not have one. That's why I say fashion and art is an expression of how I feel because I went through a hard time in high school and in college as a #metoo individual. I felt it gave me that outlet I needed at the time, where I could just be fully vulnerable and open with myself and put everything I felt into a work of art, piece of clothing, or custom shoe. Fashion and art just gave me that release. I think the most influential female artist for me is Frida Kahlo. She was an amazing woman, super awesome feminist and I support feminism. She did self portraits during the hardest point in her life after a fatal car crash. Basically on her deathbed in the hospital, she had a mirror above her, so all she did was paint self portraits. It showed the emotions she felt and her story through abstract and surreal art. I am an abstract painter and love to use that style with my clothing or denim works.