TRUE RELIGION PRESENTS
rec·la·ma·tion
noun
A series focused on a new generation of artists who are looking at the past with a new perspective.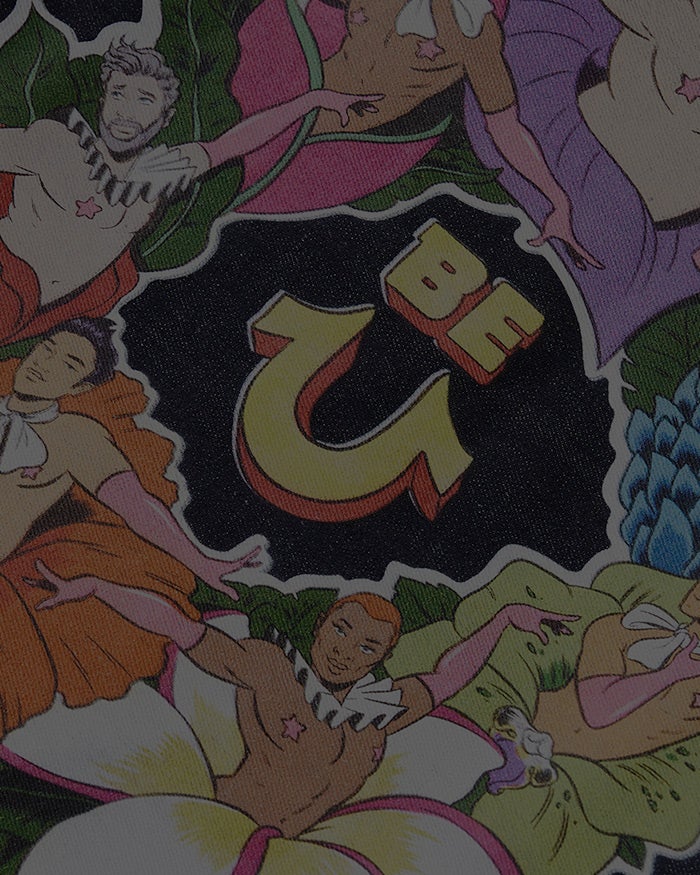 June 10, 2021
Reclamation: Cheyne Gallarde
Written by
True Staff
Photographed by
Cheyne Gallarde
Our latest profile within our Reclamation series features an artist who applies a pop art aesthetic to illustrate the beauty and diversity of the LGBTQ community.
Get to know artist and designer, Cheyne Gallarde.
What does PRIDE mean to you?
Pride to me means being your most authentic self and celebrating it. I think the celebration part is important because it inspires others to do the same.
What excites you most about collaborating with True Religion?
I'm thrilled that True Religion wants to showcase LGBTQ talent on their products! To have a national company like True Religion embrace and display my queer art for the world to see is truly an honor.
Tell us about the design of your jacket and the significance it holds.
My illustration for this special project was inspired by my love of all things queer. It's something that I've learned to love about not only myself, but also the world. Like really embracing queer culture and just being as open and queer as possible. I really wanted to celebrate men of all different shapes, sizes, skin colors, body types, and because I am from Hawaii, I really wanted to infuse a little bit of Hawaiian culture, so the the men are arranged in a lei format. A lei is a string of flowers that's placed around the neck of someone for a very special reason. I tried to use flowers of every different color to kind of simulate a rainbow lei.
The men are wearing Elizabethan collars and dandy bows and striking these amazing Vogue poses. That's because I really wanted to celebrate men being fabulous, being fierce, being feminine. Those are the things that we as men are kind of discouraged to show in the public because you're supposed to be masculine, but really masculine is a construct. I wanted to show different sides of masculinity. There's nothing stronger than embracing who you are.
How did you discover your love for creating?
I've been drawing and creating ever since I could pick up a pencil. I have an insatiable curiosity, so I'm always trying different styles of art or mediums. From paper sculptures to drag makeup, to making puppets — I love creating things and I still can't believe it's my full-time job.
Nostalgia is such a powerful feeling that can be a warm, safe space in this hectic world.
What do you want people to feel when they wear or view your art?
I want people to feel nostalgic when they see my art. Nostalgia is such a powerful feeling that can be a warm, safe space in this hectic world. Specifically for the art I created for True Religion, I want people to feel empowered. Seeing all these men being fabulously femme will hopefully encourage people to be their fabulous selves!
100% of sales from your collection is going to the Trevor Project. Why did you choose this organization to receive the donation?
Every year thousands of beautiful young queer lives are snuffed out before they can reach their potential. The Trevor Project is a 24-hour crisis hotline for queer youth and they save lives which is why I'm honored to help support them.
How can people show their support for the LGBTQ+ community?
The simplest thing you can do is display your pronouns, they help trans/non-binary people feel safe and welcomed. After that, support your local queers - commission an art piece or even tip a drag queen - it all helps!
Stay connected. See more of Cheyne and his work here:
@artbycheyne