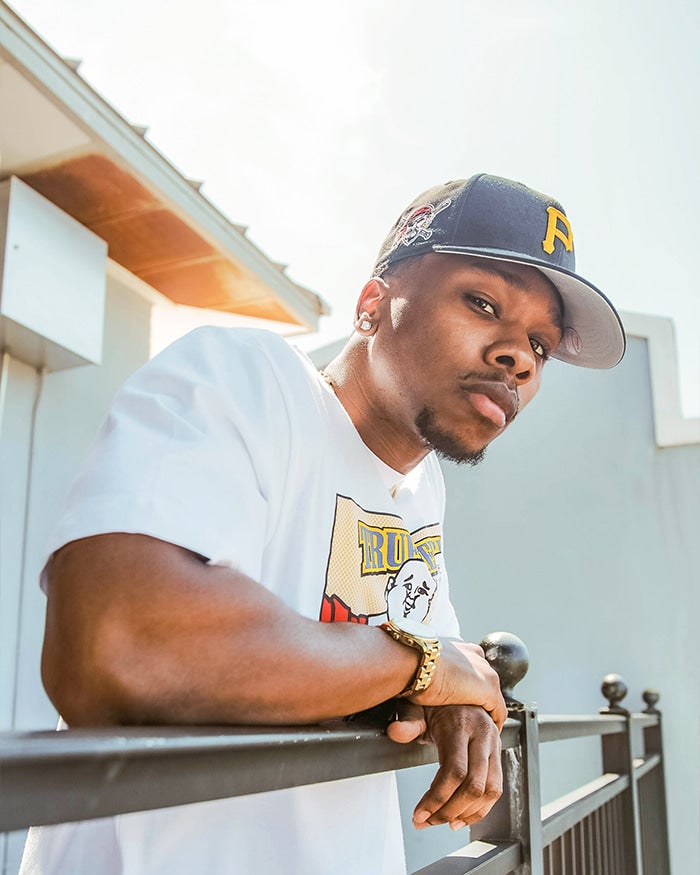 Apr 22, 2022
Generation True:
Keyshawn Hudson
Written by
True Staff
Photographed by
@shotsbyralph
Our denim has its own coming of age story—and so do you. For our latest denim campaign, Generation True, we wanted to explore the importance of True Religion denim in the lives of creatives as well as prove the simple fact that our stitch is the thread that connects us all together.
Tell us about yourself.
I like to consider myself a "jack of all trades." Growing up I had the pleasure of living in new places every few years such as Jamaica, Florida and Connecticut. At the time I didn't see the luxury in it, it was actually quite hard always having to get used to something new; adjusting to the culture then having to break ties with it every few years. But as I got older I realized it made me into the person I am, multifaceted. I can get along and relate to almost anyone. It's my favorite characteristic of myself knowing no matter where I go I have the life experience to adapt to new people and new surroundings.
We're obsessed with your food videos. What do you feel are vital elements to keeping your audience engaged? 
Simplicity and being relatable, oftentimes people don't have the passion for cooking food like someone who does it for a living so it's vital to create simple recipes others want to try themselves. The most crucial element of all though is being yourself. When I first began creating content I felt the need to try to be someone else, whether that was being more animated in my voiceover delivery or trying too hard to be funny. With time I realized there's nothing better than just being yourself, people will love that about you and tune in.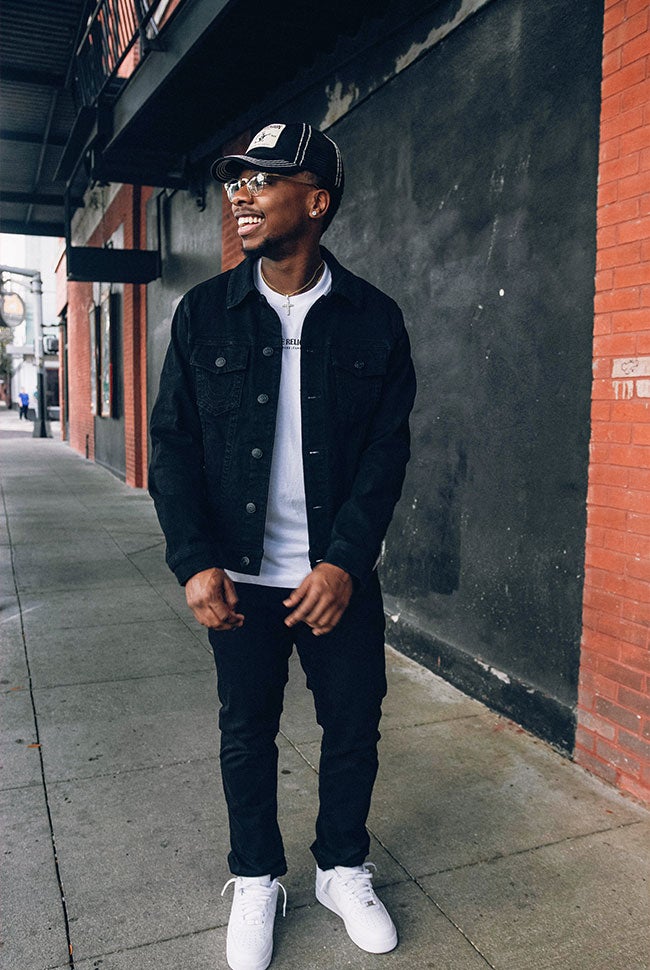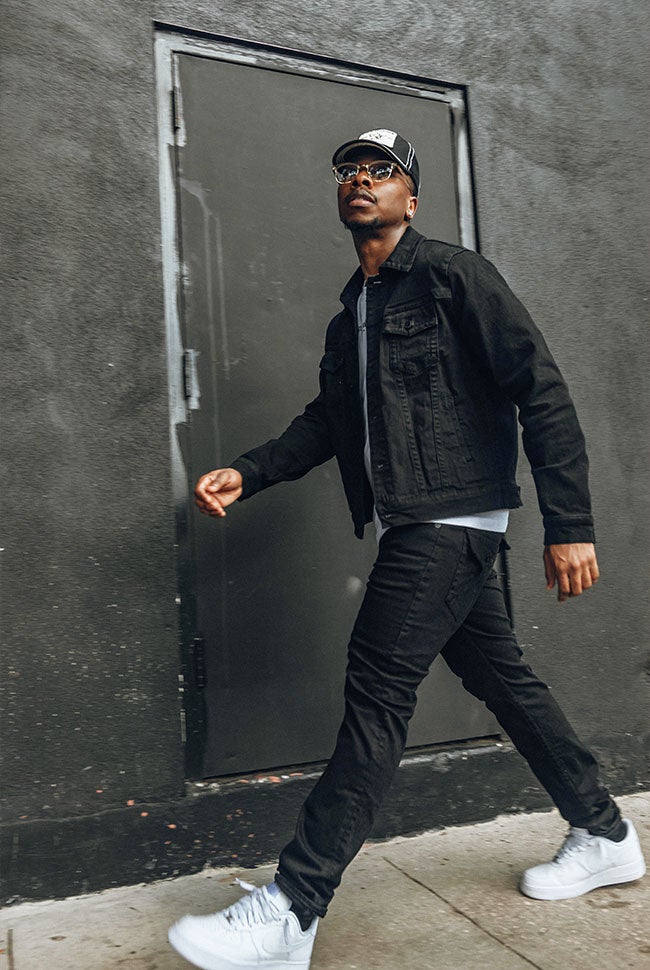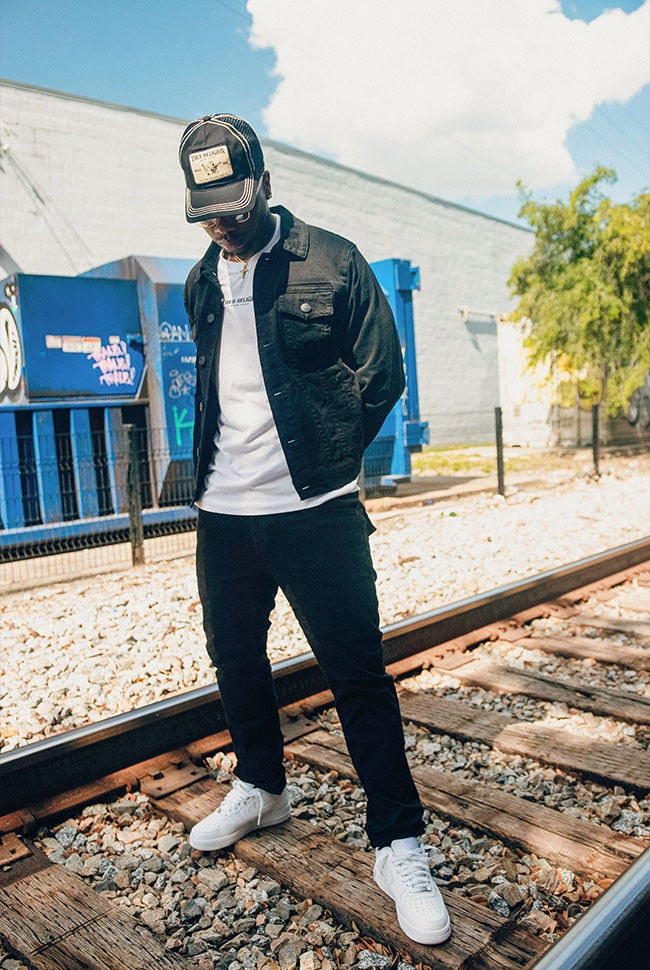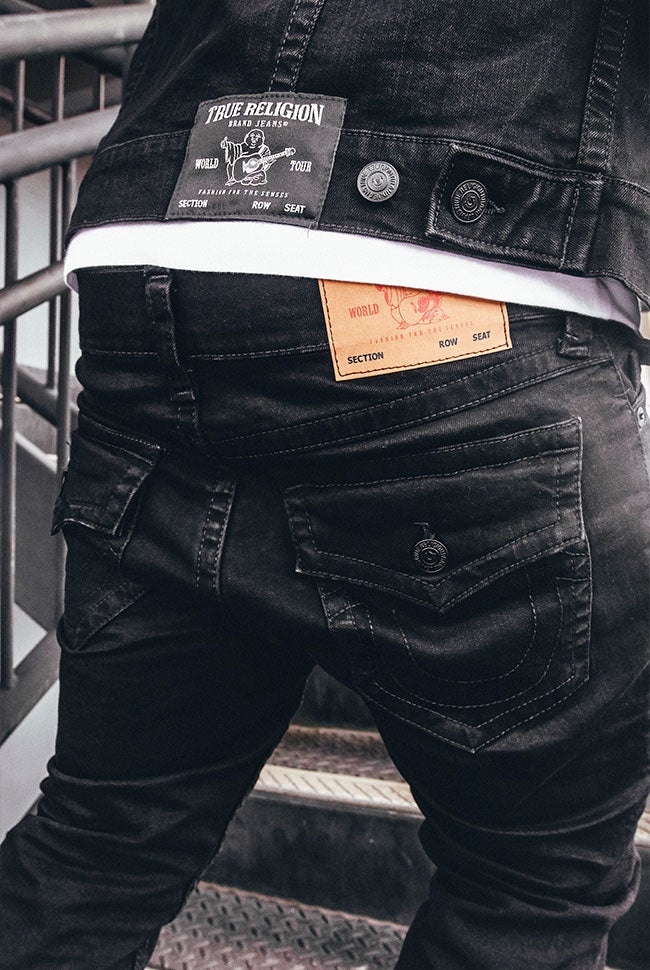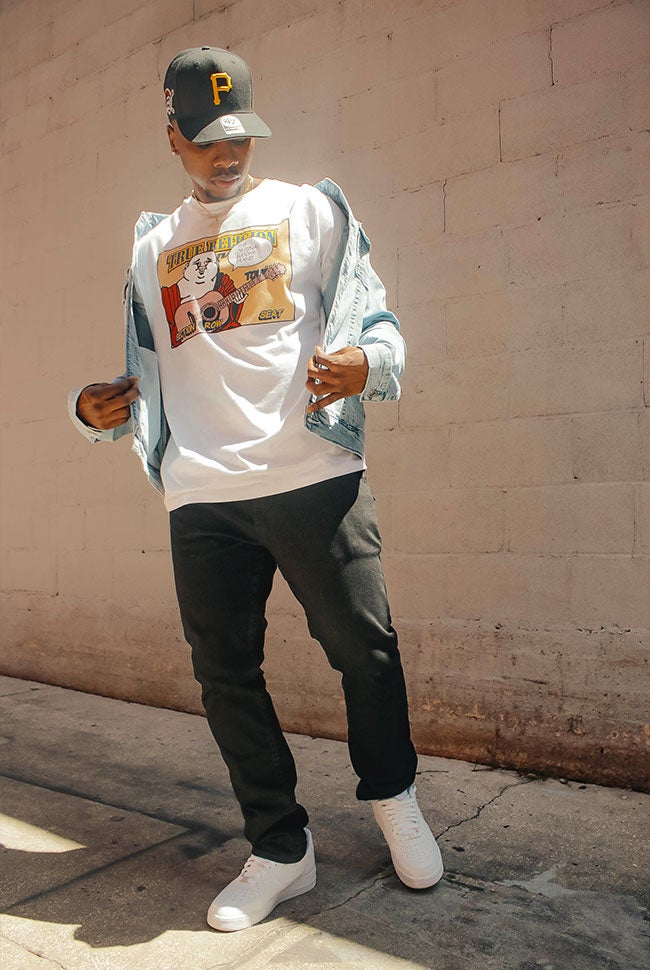 "The one item you can count on to always be there has been denim. So simple, yet retains its novelty no matter the era."
A lot goes into content creation. What does a typical day look like for you?
Content creation is hard, between always having to be creative even when the ideas are not flowing, into the actual recording itself it takes a lot of time and attention to detail.
On average I spend anywhere between 6-8 hours recording and editing a 30-60 second video so the passion for it has to be there. I wake up everyday at 9am, check my list of ideas and feel out which one will make me the most excited to create. Once that decision is made I head to the grocery store, purchase everything I need and head back home. Lucky for me my grocery store is within walking distance so I use that sunshine filled walk to ponder on new ways to deliver my content in the most extravagant way possible. Once I'm home I set up my artificial lights and begin the recording process.
The key here is I always play the music I plan to edit to the entire time I record; it helps with transition  ideas. By the time I'm done recording and editing it should be 5-6pm I post and move on to the next project.
If you had the opportunity to collaborate with someone in the culinary community, who would you choose and why?
Without any doubt it would be TooKool chef, when I first began cooking I looked up to him and till this day I still do. The relationship he has with his viewers and clients are like no other. He makes you feel like you know him with his charisma and passion for the meals he creates.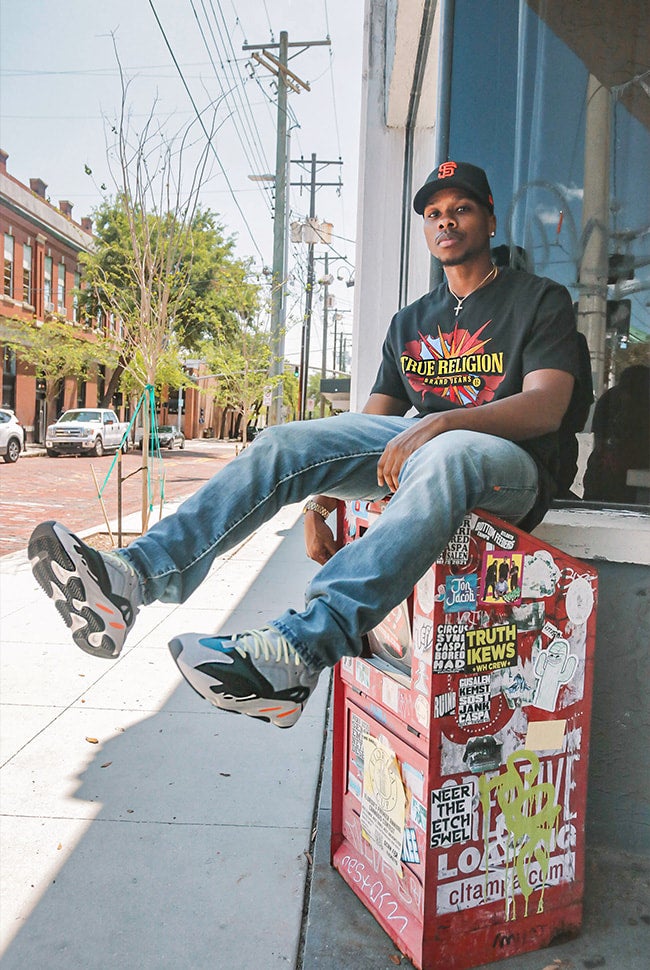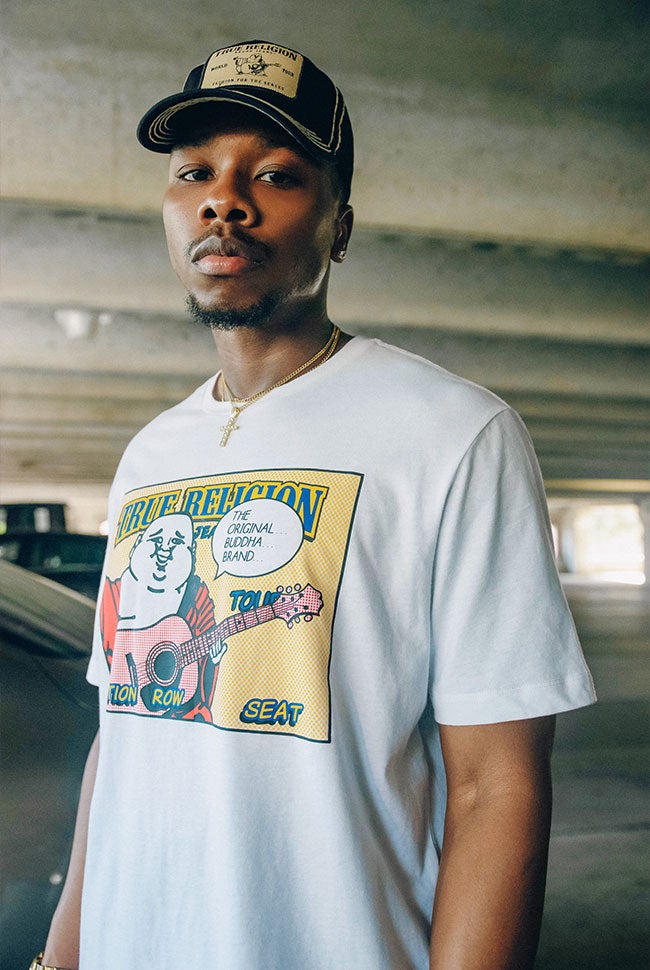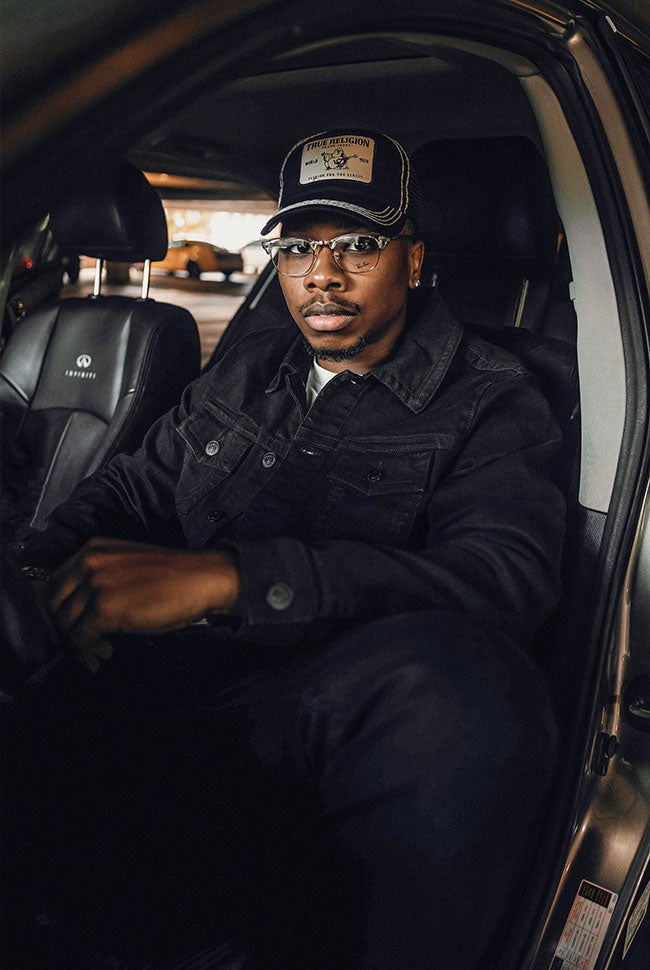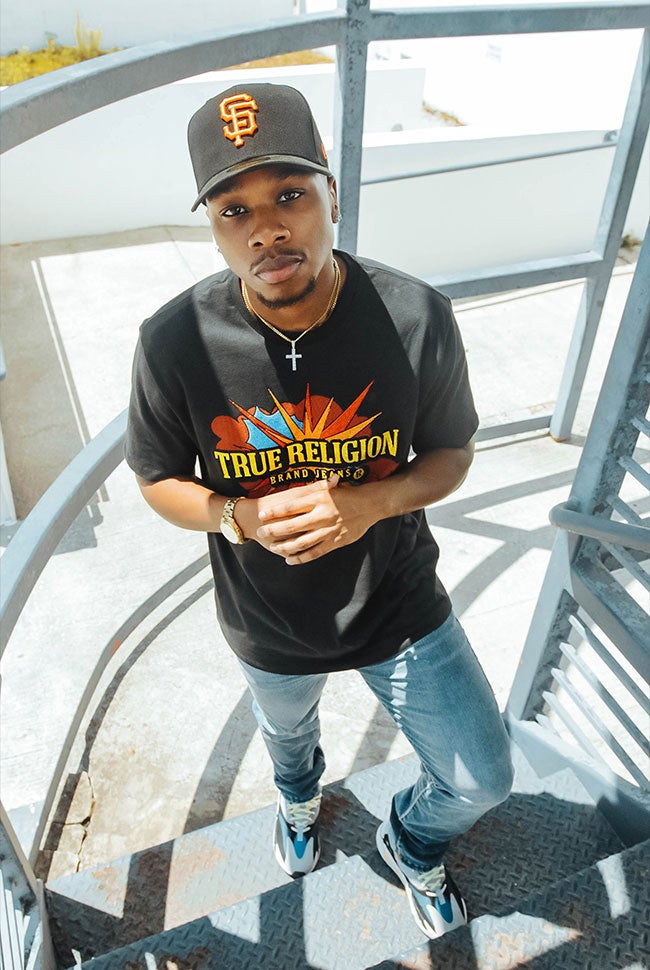 Sweet or Savory?
Savory all the way! I will always skip dessert but when it comes to Lunch or dinner foods I cannot resist.
What is one of your favorite dishes to make?
Nothing better to eat than southern baked mac and cheese, if you really think about it, is there ever a time you can't eat mac and cheese? Here's my recipe.
Ingredients
5 c. Water
2 c. Large elbow noodles
1 Tbsp. sea salt
1 stick Salted butter
3 Tbsp. Flour
3 c. Heavy cream
1/4 c. Parmesan cheese, grated
1/4 c. Sharp cheddar, grated
1/4 c. Smoked gouda, grated
1/4 c. Mozzarella, grated
1/4 c. Monterey, grated
1 Tbsp. Chive & onion cream cheese
1 Tsp. Smoked paprika
1 Tsp. Cajun seasoning
1 Tsp. Black pepper
1 Tsp. Garlic powder
1 Tsp. Adobo

Method
• Add water to a pot on medium heat and set to boil
• Once boiling, add elbow noodles to the pot with 1tbsp of sea salt
• Give it a good mix to avoid clumping together
• Cook for 8-10 minutes
• While that is cooking start your cheese sauce
• In a non stick skillet add butter
• Once melted, add flour and whisk until paste forms
• Add heavy cream and whisk until even
• Once cream boils, add parmesan cheese, cheddar, smoked gouda, mozzarella and monterey
• Pro-Tip: Freshly grate the cheeses to get best results
• Mix until combined and add chive & onion cream cheese
• Season with smoked paprika, cajun seasoning, black pepper, garlic powder, adobo
• Strain your noodles and cover in cold water to stop cooking process
• Strain again and add noodles to cheese sauce
• Mix until even and place in a a baking dish
• Top with Cheddar and mozzarella
• Bake at 350°F for 25 minutes

Tell us about your style. What is a signature Keyshawn look?
Spending the majority of my life in New England, my go-to look has to have layers. T-shirt and flannels are my favorite combo but once it gets cold, peacoats, bomber jackets and chelsea boots never get old.
Why do you consider denim a wardrobe staple?
Denim has never gone out of style, for the last century celebrities and musicians have styled their wardrobe in a surplus of unique ways from the bell bottoms of disco to the plaid pants of rock and roll. But the one item you can count on to always be there has been denim. So simple, yet retains its novelty no matter the era.
What's your life motto?
"They told me I couldn't that's why I did."
My entire life people tried to make decisions for me, told me my dreams were far fetched and demanded I lived life more traditionally with my career paths. No matter what they said, I prided myself on doing things my way knowing that there is no one on this earth that can tell me what I can and can not accomplish.